Published by Roslyn Green in December 2022
Talking about COVID-19 in German
Public domain picture of virus provided by CDC
When a world-changing event such as the Covid-19 pandemic takes place, speakers and writers naturally coin new words and word combinations. For a language nerd like me, their choices are intriguing.
The Germans, for instance, coopted the word Lockdown and made it masculine. On their children's program, Die Sendung mit der Maus, there was a discussion about whether the word Virus is masculine or neuter. The answer was that it can be either, but never feminine. Now there's one issue that the English-speaking world never has to consider. Jump to links and videos to find out more about Covid-19 in Germany and its impact on the German language.
But first, in the Bildlexikon below I've collected some essential wording for talking about life after the world changed.
Roslyn Green, November 2022
---
Masculine Nouns ♦ Feminine Nouns ♦ Neuter Nouns ♦ Plural Nouns ♦ Verbs ♦ Adjectives
die Ansteckung

– infection

sich anstecken

– to be infected

ansteckend

– infectious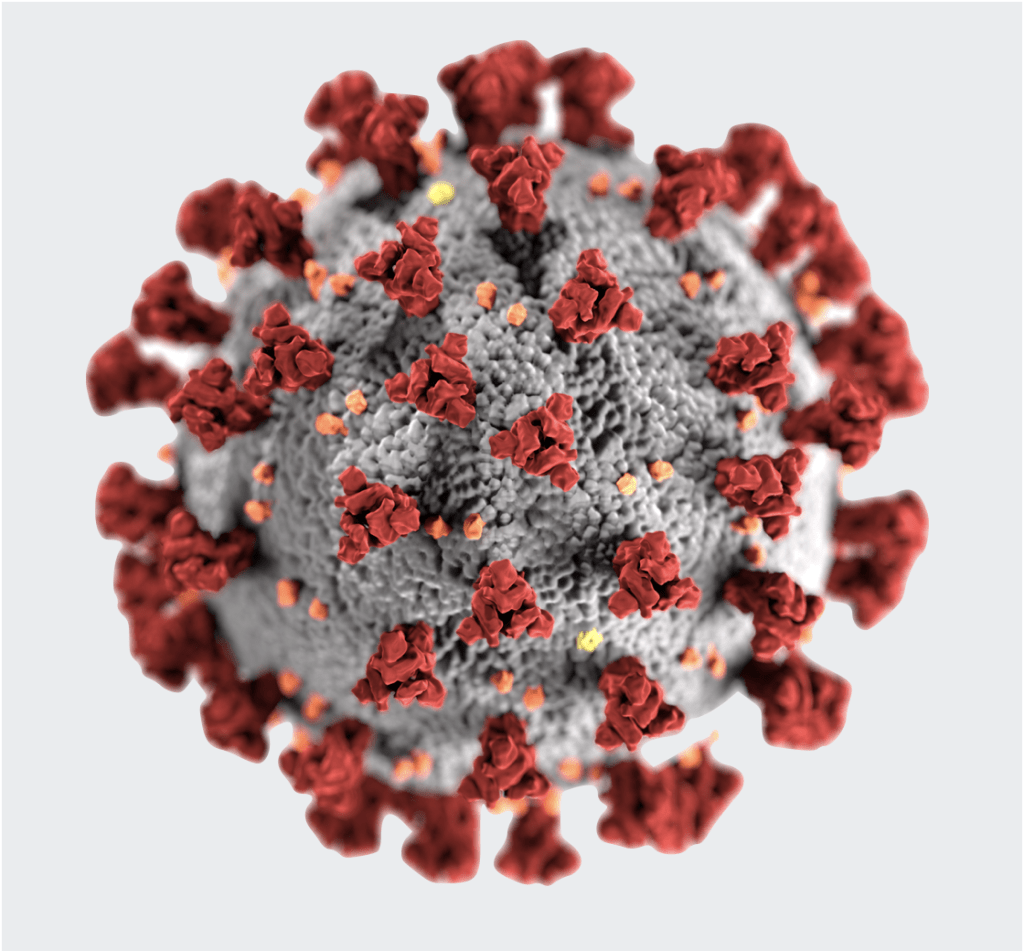 Public domain picture from CDC
Ich habe mich mit dem Virus angesteckt.
→ I have caught or been infected with the virus.
Abstand halten – to keep one's distance, to socially distance
Photo from Broken Hill, Australia
Wenn man einen Abstand von 1,5 Metern zu anderen Menschen hält, senkt das Risiko von einer Ansteckung mit Covid-19.
→ Keeping a distance of 1.5 metres from other people reduces the risk of contracting covid-19.
das Beatmungsgerät – respirator, ventilator | die (künstliche) Beatmung – artificial respiration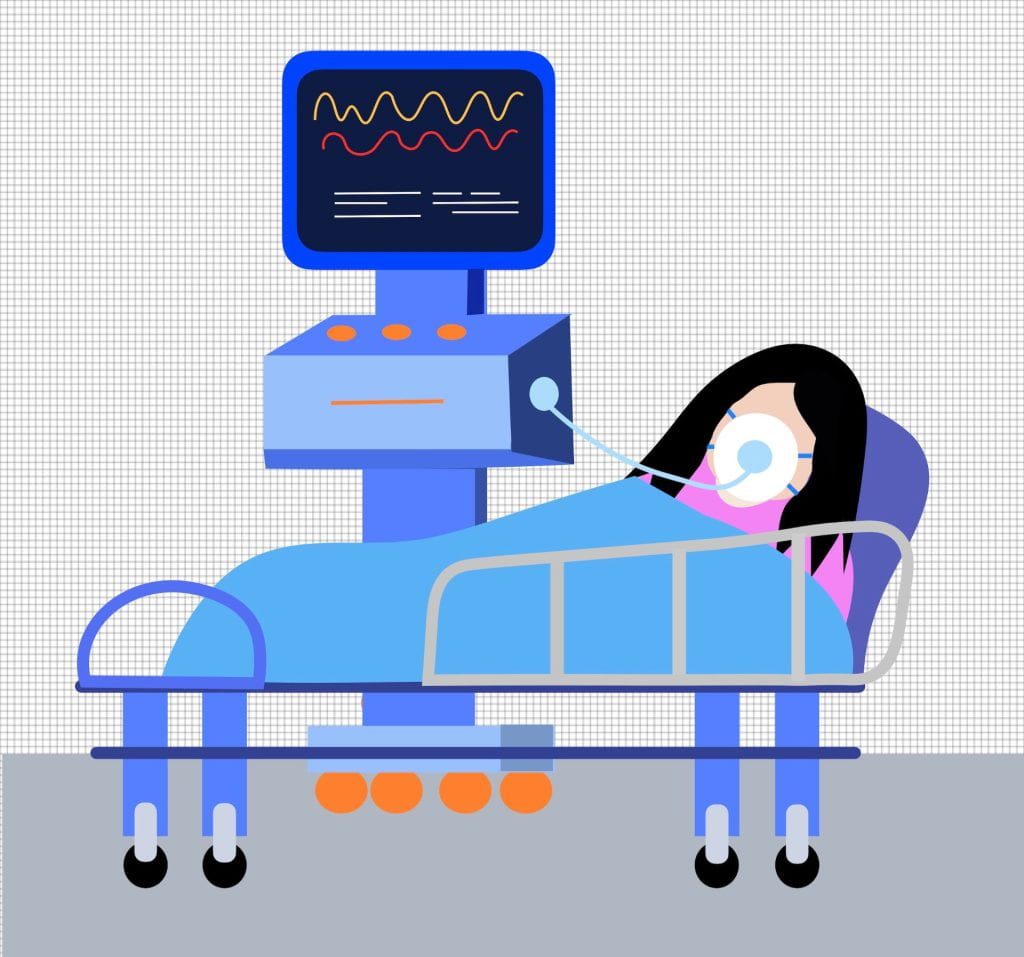 Schwerkranke Patienten benötigen möglicherweise eine künstliche Beatmung, um Sauerstoff zu bekommen und atmen zu können.
→ Seriously ill patients may require artificial respiration in order to gain oxygen and be able to breathe.
das neue Coronavirus – the novel coronavirus
Image by Ryan McGuire from Pixabay
Das Wort "Corona" stammt aus dem Lateinischen und bedeutet "Kranz" oder "Krone".
→ The word Corona is derived from Latin and means "wreath" or "crown".
die Dunkelziffer – number of unreported cases
Die Dunkelziffer ist wahrscheinlich hoch, wenn der Anteil der positiven Tests mehr als 10% beträgt.
→ The number of unreported cases is probably high when the proportion of positive tests is more than 10%.
die Erkrankung

– illness, disease, see also

Krankheit

erkranken

– to fall ill
Image by Aart Beijeman from Pixabay
Im Allgemeinen erkranken ältere Menschen schwerer an Covid-19 als jüngere Menschen.
→ In general, older people become more severely ill with Covid-19 than younger people.
der Fall

(die Fälle)

– case(s)

die Fallzahlen

– case numbers
Image by Vinzenz Lorenz M from Pixabay
Wenn eine neue Covid-Variante entsteht, steigen oft die Fallzahlen wieder an.
→ When a new Covid variant emerges, the case numbers often rise.
der Fernunterricht – distance learning, learning from home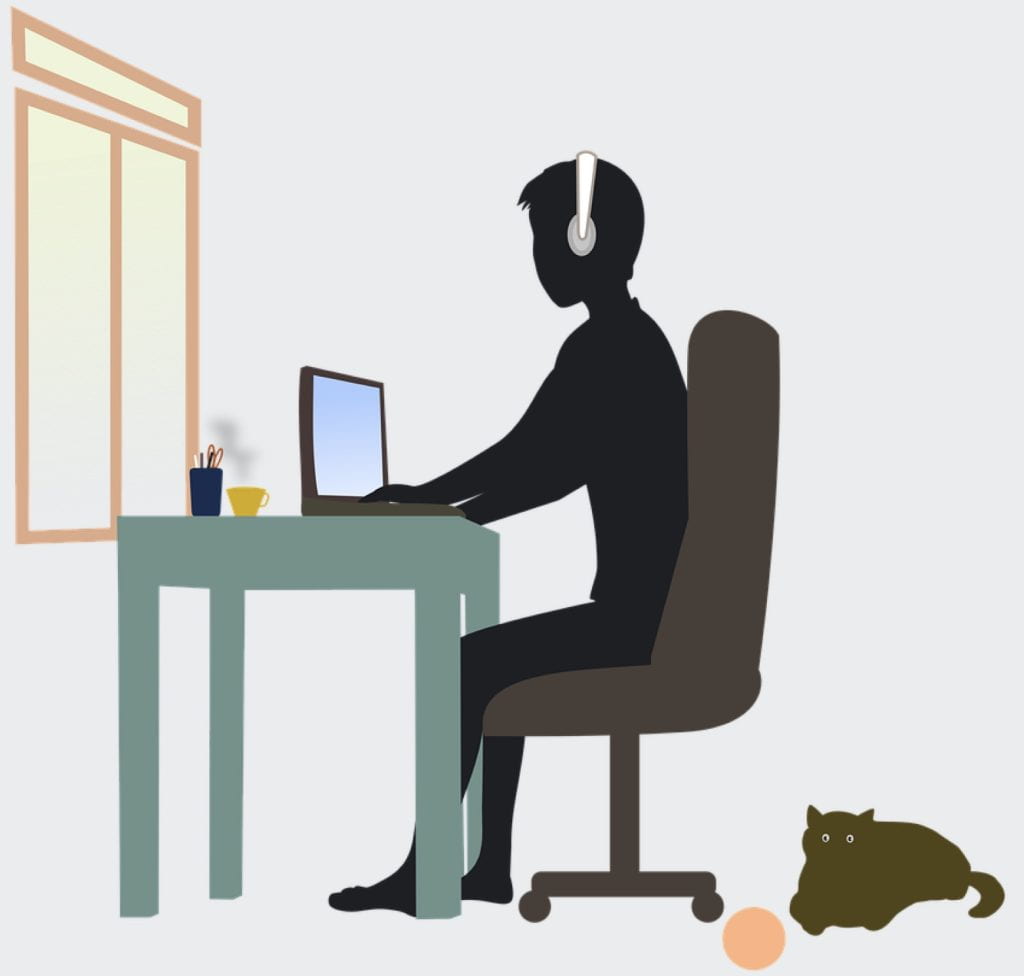 Image by Hatice EROL from Pixabay
In vielen Ländern waren die Schulen für eine Weile geschlossen. Viele Kinder haben durch Fernunterricht gelernt.
→ In many countries, the schools were closed for a while. Many children learned from home.
die Halsschmerzen

– sore throat
der Husten n. – cough

husten

v.– to cough
Image by Ri Butov from Pixabay
Häufige Symptome einer Ansteckung mit Covid-19 sind Halsschmerzen und Husten.
→ Common symptoms of an infection with Covid-19 are a sore throat and a cough.
das Handdesinfektionsmittel – hand sanitiser
das Desinfektionsmittel – sanitiser
Handdesinfektionsmittel sind vor allem nützlich, wenn man unterwegs ist und sich die Hände nicht leicht waschen kann.
→ Hand sanitiser is especially useful when you are out and about and cannot easily wash your hands.
sich infizieren

to b

e infected
jemanden

infizieren

– to infect someone
sich isolieren – to isolate oneself
Image by Mumtahina Rahman from Pixabay
Sie hat sich auf der Geburtstagsfeier infiziert.
→ She was infected at the birthday party.
die Intensivstation

– intensive care

das Intensivbett

– intensive care bed
Image by Mohamed Hassan from Pixabay
Schwerkranke Patienten müssen auf der Intensivstation behandelt werden.
→ Seriously ill patients must be treated in intensive care.
die Krankheit

– illness, sickness

die Kopfschmerzen

– headache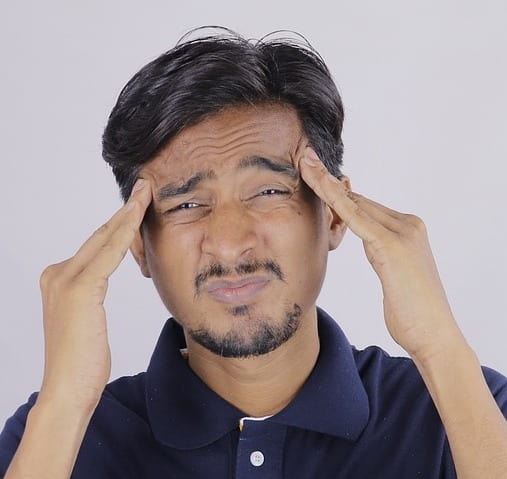 Image by SAIYED IRFAN A from Pixabay
Eines der häufigen Symptome der Krankheit ist Kopfschmerzen.
→ One of the common symptoms of the illness is a headache.
die Kontaktperson

– anyone who has been in contact with a confirmed case of Covid-19

die Kontaktbeschränkungen

– restrictions on social interaction between people
Image created from those by J'Von Jones and Yvette W from Pixabay
Aufgrund der Kontaktbeschränkungen durften sich einige Familienmitglieder nicht sehen.
→ Due to the social contact restrictions, some family members were not allowed to see each other.
die Kurve abflachen – flatten the curve
RCraig09, CC BY-SA 4.0 https://creativecommons.org/licenses/by-sa/4.0, via Wikimedia Commons
Das Ziel war es, die Kurve abzuflachen, um das Gesundheitssystem nicht zu überfordern.
→ The aim was to flatten the curve so as not to overburden the health system.
der Lockdown – lockdown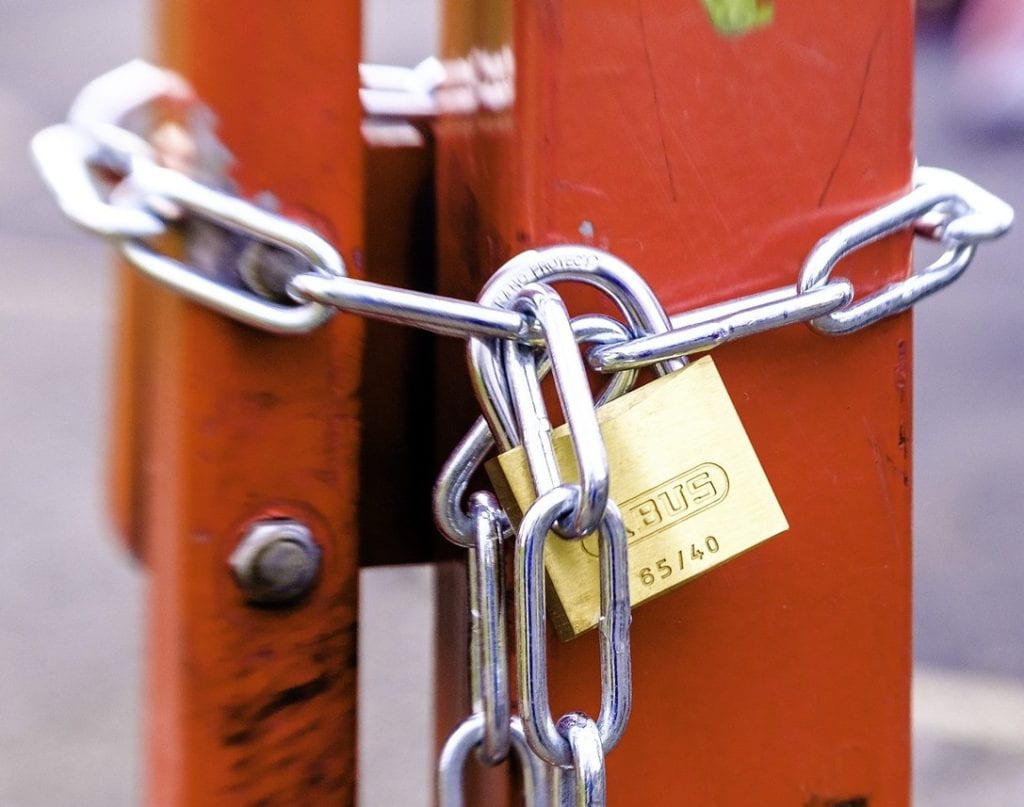 Image by Bob McEvoy from Pixabay
Während des Lockdowns mussten die meisten Menschen zu Hause bleiben und sich von anderen isolieren.
→ During the lockdown, most people had to stay home and isolate themselves from others.
die Langzeitfolgen

– long-term effects
Long Covid – usually without an article (

feminine

or

neuter

)
Image by Gerd Altmann from Pixabay
Zu den Langzeitfolgen von Covid gehören Müdigkeit und Gedächtnisprobleme.
→ The long-term effects of Covid include fatigue and memory problems.
die Maske

– mask

die Maskenpflicht

– the requirement / obligation to wear a mask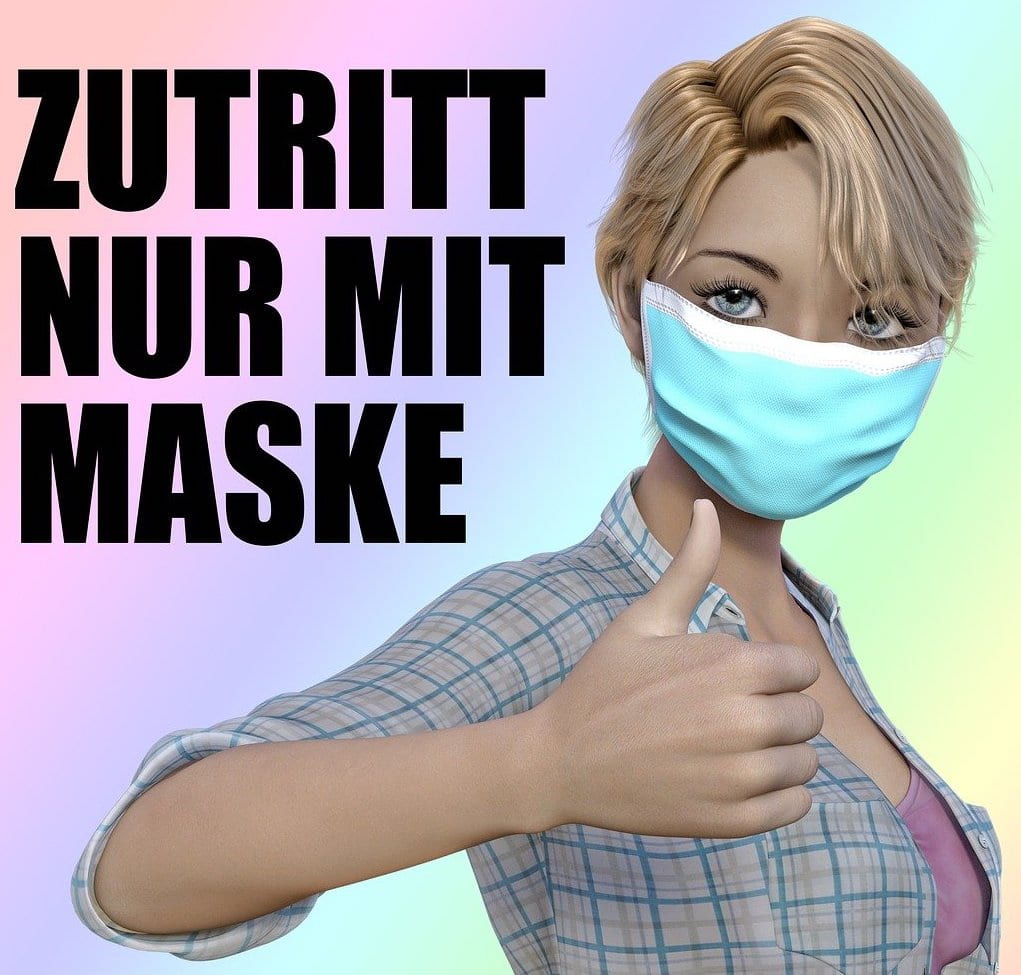 Entry only with a mask: Image by S. Bartels from Pixabay
Eine Maske kann infektiöse Tröpfchen abfangen.
→ A mask can catch or intercept infectious droplets.
niesen – to sneeze
Image by Mohamed Hassan from Pixabay
Eine infizierte Person hat häufig Symptome wie Niesen, Husten, Halsschmerzen und Fieber.
→ An infected person frequently has symptoms such as sneezing, coughing, sore throat and fever.
die Pandemie – pandemic
Eine Pandemie betrifft die gesamte Welt, eine Epidemie hingegen nur Menschen in einem bestimmten Gebiet.
→ A pandemic affects the entire world; an epidemic, however, only people in a specific area.
die Quarantäne – quarantine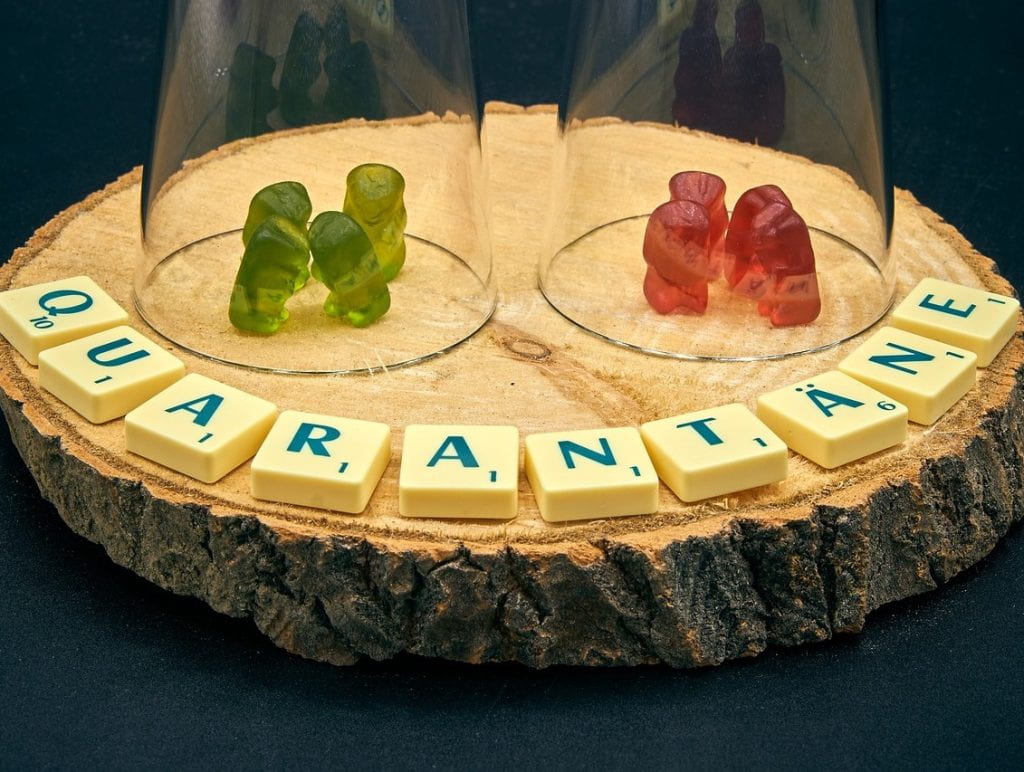 Image by Markus Distelrath from Pixabay
Die Infizierten stehen unter Quarantäne, das heißt, sie müssen sich zu Hause isolieren.
→ Those who are infected must go into quarantine, which means that they must isolate themselves at home.
Image by Julio César Velásquez Mejía from Pixabay
Infizierte Personen erleben manchmal Probleme mit dem Riechen und dem Schmecken.
→ Infected people sometimes experience problems with smelling and tasting.
der Schnelltest

– rapid antigen test, RAT administered by professionals

der Selbsttest

– RAT administered by oneself
Durch einen Selbsttest kann man ein schnelles Ergebnis zu Hause erhalten.
→ By doing a RAT, you can gain a quick result at home.
das Tröpfchen – tiny droplets or aerosols that hang in the air
Image by Masum Ali from Pixabay
Wenn eine infizierte Person spricht, singt, niest oder hustet, atmet sie winzige infektiöse Tröpfchen oder Aerosole aus, die in der Luft schweben.
→ When an infected person talks, sings, sneezes or coughs, they exhale tiny infectious droplets or aerosols that float in the air.
der Verlauf

→ ein

schwer

er /

mild

er

Verlauf

– course, progression (of the illness) → a severe form or course / a mild form or course

die Variante

– variant, strain
Image by Willgard Krause from Pixabay
Bei einem schweren Covid-Verlauf muss man ins Krankenhaus gehen, aber die meisten Menschen haben eine relativ milde Erkrankung und können zu Hause bleiben.
→ If your COVID infection is severe, you have to go to hospital, but most people have a relatively mild illness and can stay at home.
der / die Wissenschaftlerin– scientist
der Wellenbrecher – literally wave-breaker; refers to all the measures taken to control the fourth Covid wave → Word of the Year | Wort des Jahres 2021
Image by Dimitris Vetsikas from Pixabay
Alle Maßnahmen, die wir gegen COVID-19 treffen, können wir als Wellenbrecher bezeichnen.
→ All the measures that we take against COVID-19 could be described as wave breakers.
---
Quiz: Describing the Pandemic in German
This quiz draws on the vocabulary presented above. Click on the lightbulb on the quiz screen to see a list of the vocabulary specific to the quiz.
---
Audio Quiz: Das erste Jahr der Pandemie
The story of a Year 12 student's experience in Melbourne, 2020: Covid lockdowns, learning from home, taking one walk per day, missing friends – and sometimes even missing teachers. – Recorded by Charlotte Yates